Try a  download for only

99 cents!

This video is an extension of Adjustable Band Rings Vol 1 with more ideas, adding a stone, and further comments. It is not recommend to down load this video without watching Adjustable Band Rings Vol 1. However, it will give you a review of two of the rings that are taught in Adjustable Band Rings Vol 1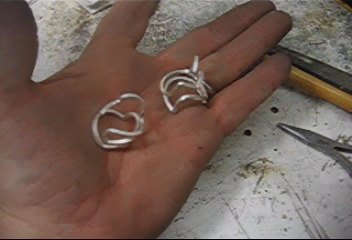 Simple Silversmithing Class

Come, make your own sterling silver pendant, and have some fun!

Class Fee: $50.00, includes all tools, supplies, stones and Silver for the class.

Truly a unique experience taught by Don Norris with over 40 years of teaching Silversmithing experience. We will teach about metals, how they are mined, what alloys are, and what is pewter, Sterling Silver and gold. Although this is just an introductory class, we will discuss the tools, supplies and soldering techniques necessary to begin Silversmithing. You will design your own sterling silver pendant and choose a stone of many different colors. You may choose to use the new Cobalt Blue Ice stone that Mr. Norris formulated and copyrighted. Each is faceted, not molded as with some crystal stones.  Students will design a pendant, then solder it together. You will set the stone and after polishing your pendant, you will be able to wear it home on a 20 inch Sterling Silver chain! Some student's examples are shown below.